Tickets ON SALE NOW – College Musical
Headmaster's message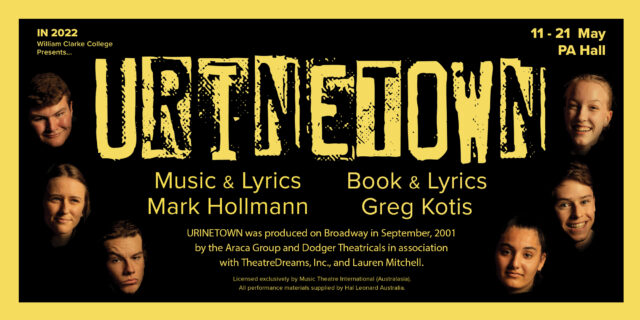 I am pleased to announce that tickets are now on sale for the College's 2022 Major Production of 'Urinetown'.
There will be seven performances, opening on Wednesday 11 May 2022 and closing on Saturday 21 May 2022.
The production features a cast of 64 students from Years 8-12, a 20 piece orchestra as well as students involved behind the scenes in technical, backstage, makeup and other supporting roles.
'Urinetown' was nominated for nine Tony Awards in 2002 including Best Musical, it won the award for Best Book of a Musical, Best Original Score and Best Direction of a Musical.
Urinetown is a brilliant satire that is funny, fast-paced and fun for the whole family to enjoy as it comments on the legal system, capitalism, social irresponsibility, populism, bureaucracy, corporate mismanagement, municipal politics and musical theatre itself! There are important parallels between the narrative of Urinetown and current world issues including global warming and the abuse of power.
A terrible water shortage has crippled the Gotham-like town that serves as the setting for Urinetown. In a mad attempt to regulate water consumption, the government has outlawed the use of private toilets. Citizens must use public, pay-for-use amenities owned and operated by the corrupt and iron-fisted Caldwell B. Cladwell. Anyone who refuses to pay is immediately and without question hauled off to Urinetown. What is Urinetown? Nobody knows, for those who are sent there are never heard from again. But it's really a love story and there's a revolution all before the end of Act I.
Tickets are available by using this link 
The first Saturday evening (14 May – our 3rd performance) has a new type of ticket. The Premium ticket entitles the ticket holder to preferred seating plus pre-show beverage (beer, wine, champagne, or soft drink) and an individual grazing platter to be enjoyed in The Branwhite Centre foyer from 6pm – 7.00pm.
Light refreshments will be available for purchase at intermission. 
Go Back