The Power of Portraiture
College Life Insight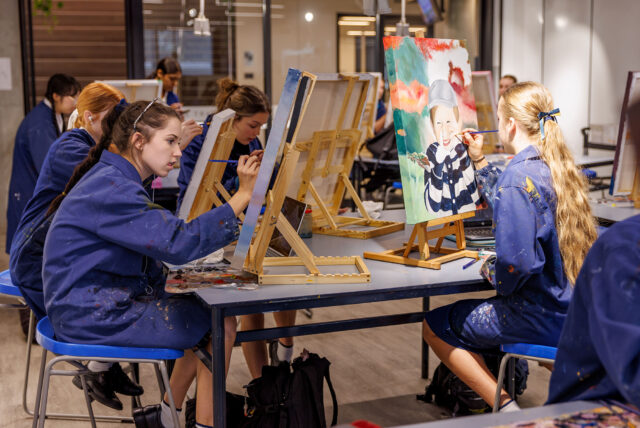 By Catherine Sanchez, Publications Officer
William Clarke College is renowned for fostering excellence, not only within its student community but also among its dynamic teaching force. The educators at William Clarke don't just possess remarkable skills; many of them also bring a wealth of experience and an unmatched dedication to their craft. They stand as pillars upon which the College's exceptional reputation is built, working diligently to prepare our students for success beyond success at school.
Amid the numerous faculties brimming with exceptional mentors, there is an individual aglow with a spark of artistic brilliance. As a practitioner of the brush and canvas, Ms Tierney Gibbens' artwork portfolio abounds with multiple accolades, including being a finalist in several prestigious Australian art prizes. She is renowned for her captivating portraiture work, having exhibited her creations throughout the country for over 10 years.
It was therefore of little surprise when Ms Gibbens' deep passion for the art of portraiture broke free from the confines of her studio and found its way into the corridors of William Clarke College. As a member of the Visual Arts Faculty, she unveiled a remarkable opportunity for students in Years 9 and 10 by designing and implementing a new Xplore course titled 'The Human Form', a subject as transformative as it is inspiring.
The course, that ran for the first time during Semester 1 this year, aims to equip students with the skills to be proficient in painting portraits and the human anatomy, specialising in oil paints. Students begin the course by completing their own self-portraits, unassisted by Ms Gibbens' guidance. This initial endeavour is somewhat of a benchmark, a vivid representation of their artistic journey – concrete evidence of their growth throughout the course, mapping the path from tentative beginnings to accomplished outcomes.
During the semester, students navigate a carefully curated curriculum designed to nurture their freehand drawing skills and cultivate their understanding of spatial relationships and proportions within portraits. Guided by Ms Gibbens' expertise, they delve into the realm of life drawing exercises, capturing bodily and facial proportions with heightened precision and increased swiftness. "This course aims to be entirely tailored towards fostering an environment that supports student growth," stated Ms Gibbens. "It is a warm, welcoming and positive space, yet also one where feedback can be constructively given and is welcomed by those who need it."
As part of the course, students are encouraged to craft two paintings using the transformative potential of oil paints, a medium renowned for its alchemical effects. According to Ms Gibbens, the first painting, a Realism artwork, "is informed by traditional techniques and artists of the Renaissance era. This covers fundamental oil painting skills that underpin a student's skill base and confidence level for the second artwork." From there, students move on to their second 'major work' piece where they use larger-scale canvases and more expressive brushstrokes, a signature of contemporary oil paintings. "The students' major work is in the style of the Archibald Prize," remarked Ms Gibbens. "Students think of a person who inspires them to interview and paint. This artwork is an opportunity for students to challenge themselves technically and also challenge their audience. Students are invited to consider what they want their artwork to say and what they want their audience to feel."
This aspect of Ms Gibbens' course means that students create a deeper connection to their artwork, learning how to convey narratives and emotions with the use of facial expressions, colours, signs and symbols to communicate. In the end, the course transcends mere technique, it becomes a personal voyage where students weave emotions into every brushstroke.
This voyage was no more evident than in the incredible artworks brought to life at the end of the course. There was Sophie's large-scale family portrait which showcased each member of the family hued with a colour that most suited their personality. There was Heidi's portrait of her as a toddler with her father, crushing up tomatoes to make tomato sauce on Australia Day, a treasured family tradition. Sylvia created a portrait of her mother with the initials of each member of her family subtly hidden in the portrait, as well as other symbolism included to indicate her interests.
Then there were the portraits created by three students who captured their war-hero grandfathers on canvas, an incredible opportunity to bring history to life. Through the deliberate strokes of the brush, these artworks not only reflected the profound sacrifices and unwavering bravery of our soldiers on the battlefield but also celebrated it, infusing each stroke with genuine pride and honour. Anneka's artwork showcased her grandfather, with his suit and badges, against an abstract background which portrayed the fiery sunsets in Vietnam. In the work, Anneka's grandfather held a framed picture of his own father who fought in World War 1. Caitlin painted a pensive portrait of her grandfather at home with the title 'More Than the Uniform'. By doing so, Caitlin was inviting viewers to look beyond the identity of her grandfather as a soldier and celebrate the individual behind the uniform instead. Stephanie's expressive-style portrait of her grandfather conveyed great emotion by capturing the bravery required from soldiers to serve in the war, thereby asking viewers to see the war scene in the background like soldiers would have had to.
It was also exciting when one of Ms Gibbens' students, who attends art classes outside of William Clarke College, had an artwork selected for display at the prestigious 2023 Young Archies exhibition, currently captivating audiences at the Art Gallery of NSW. Sophia's exceptional creation emerged as one of the exclusive 70 finalists chosen amidst a staggering influx of over 3400 entries from across the nation. This outstanding accomplishment certainly left the College community in awe. "The admission of Sophia's work is an excellent example of the course's objective in understanding real-world experiences for artists," stated Ms Gibbens emphatically. "It is a demonstration of one of the ways to gain success and recognition as a portrait painter – by entering local and national art prizes, which leads to opportunities and recognition from viewers, galleries, collectors and the like. It is also a wonderful opportunity for any budding artists among classmates to see that progression and success is possible at a national level."
Sophia's remarkable artwork, created in her external art classes, showcased her art teacher, Wang Yi, an Archibald finalist in 2008. In her work, Sophia captured Wang's 2008 entry titled 'Long Hair' in the background, as well as his "serious expression and stern demeanour", characteristics that initially scared the Year 10 student. According to Sophia, her perception of Wang has changed over time and she considers him "a very wise man who likes to make small talk and sometimes joke during lessons. He also loves showing off his large collection of antiques, which he has collected throughout the years. Even though my perception of him has changed, he himself has remained the same." According to Ms Gibbens, Sophia's achievement exemplifies the course's impact, turning dreams into reality.
For students who were a part of this inaugural portraiture course, it has opened their eyes to not only improving their technical skills in drawing and oil painting, but also making deeper connections with their art and the people around them. For Stephanie, she "liked getting to try new techniques, styles and methods. I also enjoyed learning oils for the first time and getting detailed feedback and help." Jessica mentioned that her "skills developed and improved drastically during this course. My expressive work is a token of everything I had learnt in previous units of work and I am very glad for the feedback I received." While Elisa stated that she "learnt how to draw my body proportions a lot better as well as picking the correct colours and blending techniques for different pieces. It also provided me an opportunity to experiment."
Yet the culmination of this artistic odyssey draws upon more than just techniques and aesthetics. In tandem with their creative endeavours, students also journey through the annals of history, exploring the legacy of the Archibald Prize – a celebrated testament to the power of portraiture. They also research what is involved in relation to artwork storage and preservation. According to Ms Gibbens, information about storage methods and temperatures in gallery settings to aid the longevity of oil paintings is rarely covered in school content. "On our excursions, we viewed oil paintings that were several hundred years old and marvelled at the quality of the paint at that age," she stated. "It all comes down to how the work has been stored, varnished and cared for. There is a lot that goes on behind the scenes. Students learn how to create and store their works if they were to continue painting with oils, or if they are considering a career in gallery curation or artwork conservation after school."
One of the highlights from the course was the People's Choice Prize and the Parent Exhibition evening. Both events enabled the College community to come together not only to view the student works but also to vote for them, an experience that mirrors the professional realm as it prepares students for the world beyond the classroom. "It was a wonderful way of bringing the College community together to interact with and appreciate the works," said Ms Gibbens ardently. "Students were able to gain the experience of preparing and hanging their own work for exhibition and have staff, students and family members come in to appreciate the works and share words of encouragement. This was a very rewarding and heartwarming experience for the students to share their talents, and to share paintings of their inspiring person with so much meaning embedded in them. It was also wonderful to meet the subjects of the works and see them so excited and supportive of the students."
Looking ahead to the future, Mrs Gibbens is eagerly anticipating the opportunity to present this distinctive Xplore course to Years 9 and 10 students in 2024. For this zealous teacher, The Human Form course is designed to inspire students to unearth their creativity, ignite passions and forge futures enriched by paint and palette. It's certainly obvious that Ms Gibbens' influence stretches far beyond the classroom. Her creativity and dedication to her career is a beacon – she is not only inspiring students and her fellow teachers, but she is crafting legacies of innovation, extraordinary learning and boundless potential.
Go Back