Year 12 Science Extension Students present at 2023 [EX]plore Science Extension Conference
General News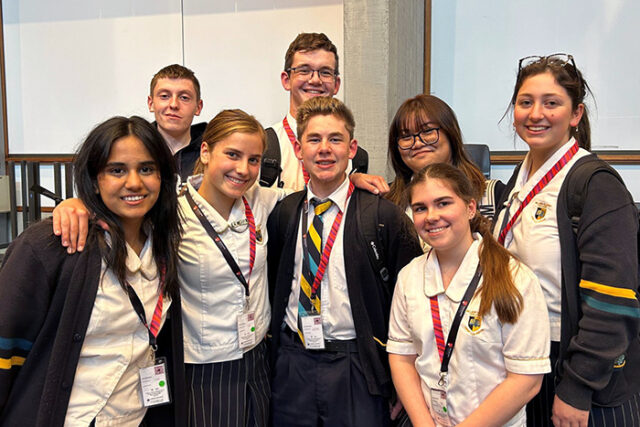 The College extends its heartfelt congratulations to our Year 12 Science Extension students for their outstanding presentations at the 2023 [EX]plore Science Extension Conference hosted by Macquarie University recently. This event served as a platform for students, undergraduates and PhD researchers to unite in their shared passion for Science and gain insights from one another's experiences. The highlight of the day was the captivating keynote address delivered by Australia's Chief Scientist, Dr Cathy Foley AO PSM.
This invaluable experience allowed our Year 12 students the unique opportunity to showcase their research project posters, previously exhibited at the College's recent APEX exhibition. As a subject, Science Extension places a strong emphasis on the authentic application of scientific research skills, leading to the creation of a Scientific Research Report with the potential for publication. Students are tasked with proposing and developing research questions, formulating hypotheses, and providing evidence-based responses to construct their scientific research reports, including their research project posters. Macquarie University recognised and awarded two prizes for the best posters and interviews, and we extend our congratulations to Thomas B, who received one of these awards for his project titled 'Manipulating Randomness: A deterministic approach to the coin toss'.
Our students have produced exceptional work in Science Extension and we, as a College, eagerly anticipate the exciting paths that these projects may take our students on in the future.
Go Back