Lower Secondary Theatre Production of A Midsummer Night's Dream – Tickets available
Co-Curricular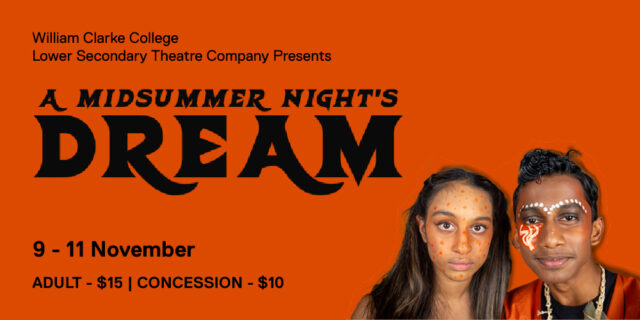 William Clarke College is excited to announce that tickets are now on sale for the Lower Secondary Theatre Production of A Midsummer Night's Dream, a play written by William Shakespeare and adapted by Ms Lindsay for our wonderful Lower Secondary Theatre Company cast and crew.
There will be three evening performances, opening on Thursday 9 November 2023, Friday 10 November 2023 and closing on Saturday 11 November 2023. There will also be one matinee performance on Saturday 11 November 2023.
Set in the dusty Australian town of Emuville, the towns folk are busy preparing for Mayor Alf and his soon to be bride, Mayor Sharon's wedding. Four young people decide to escape and run into the desert in search of love. Unfortunately, love is not as simple as it seems, and the Australian desert is a mysterious place filled with magic. The mischievous desert creature, Puck, tricks the lovers into a complicated entanglement. At the same time the queen and king of the desert are in a feud over a little wombat. Soon Puck reverses the magic just in time for the lovers to return to Emuville, attend the Mayor's wedding and watch an entertaining play put on by the local community theatre group.
The production has been developed by Staff and Year 7-9 students over the past two terms and has challenged students to see Shakespeare in a new light, as well as deal with performing outside compared to the traditional theatre. We are excited for you to see this engaging and comedic show!
Tickets are available here
Go Back