Vale Philip Bryson
Headmaster's message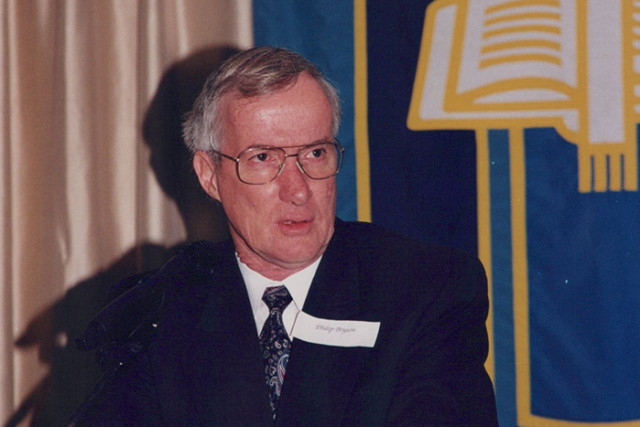 The William Clarke College community is saddened to learn that our founding Headmaster, Mr Philip Bryson, passed away on Monday 31 July 2023. Philip was the College's Headmaster from 1987-2002.
Philip forged the development of William Clarke College in the early days, starting his work in 1987 after his appointment by the College Council, seeking to bring to life their vision for a high-quality, affordable Christian education in the burgeoning Hills District. Unquestionably, he achieved this ambition.
The College opened its doors on 2 February 1988 and over the following 15 years, Philip's unwavering commitment and profound wisdom illuminated the path as the College began to flourish. His tireless efforts were instrumental in shaping the College, earning him a distinguished reputation for his student-centred approach and unwavering dedication to upholding Christian values. Much of what is wonderful about William Clarke College today can be traced directly back to Philip's pioneering work.
Philip exhibited an unparalleled work ethic, tirelessly engaging in various activities such as joining students on camps, constructing and painting sets for musicals, clearing the College grounds of blackberry bushes during 'working bees' and cultivating gardens. He encouraged students wholeheartedly in their academic pursuits and attended numerous student performances throughout his tenure, demonstrating his genuine dedication to the growth and enrichment of the College community. His support of Music, Creative Arts and Sports at William Clarke College allowed students to be extended well beyond the classroom and gave them the opportunity to embrace new challenges in a supportive environment.
Aside from his time at William Clarke College, Philip had a long and distinguished career in education, particularly his 15 years at the King's School prior to his appointment to William Clarke College, and his contribution to the staff team at St Andrew's Cathedral School for many years after leaving William Clarke College in 2002.
The College community extends our prayers and deepest sympathy to his children Karen, Fiona and Stuart, and his many grandchildren, some of whom are current and former students of St Andrew's Cathedral School and William Clarke College.
We are grateful to God for the remarkable legacy of Philip's leadership of our community.
Go Back