HSC Major Works Exhibition
Headmaster's message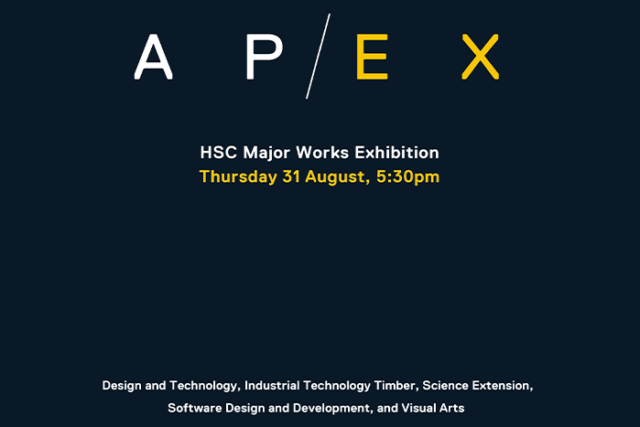 We are thrilled to extend an invitation to all members of our Community to 'APEX' – the much-anticipated HSC Major Works Exhibition! This event promises to be an inspiring showcase of the remarkable accomplishments achieved by our talented Year 12 students across various disciplines.
Date: Thursday, 31 August 2023
Time: 5:30 PM – 7:30 PM
Location: The Branwhite Centre
The APEX Major Works Exhibition 2023 will proudly display the outstanding HSC major works from students in the following subjects:
Visual Arts
Science Extension
Industrial Technology Timber
Design and Technology
Software Design and Development
Each major work on display represents countless hours of dedication, creativity, and hard work by our students. This event is an opportunity to celebrate their achievements and witness the incredible outcomes they have produced.
Throughout the evening, you will have the privilege of engaging with our students as they share their experiences and insights into the development process behind their Science Extension, Design and Technology, and Software Design and Development projects – from conceptualisation to realisation.
RSVP: Kindly RSVP by 4PM on 24 August 2023 by clicking on the link below, as your response will greatly assist us in ensuring adequate catering for the event.
https://aus01.safelinks.protection.outlook.com/?url=https%3A%2F%2Fconnect.wcc.nsw.edu.au%2Fsurvey%2Fintro%2F10847&data=05%7C01%7Clrb%40wcc.nsw.edu.au%7C6a07f5fb445f4460fdae08db9934205e%7Cfe4800101e404738865d1ed89e6fd95b%7C0%7C0%7C638272221401498286%7CUnknown%7CTWFpbGZsb3d8eyJWIjoiMC4wLjAwMDAiLCJQIjoiV2luMzIiLCJBTiI6Ik1haWwiLCJXVCI6Mn0%3D%7C3000%7C%7C%7C&sdata=VOWeIgFk3Ys2rs8SaRJOFHLSfQ2OuQrgG3UFnYOYrkA%3D&reserved=0
Feel free to extend this invitation to your extended family and friends, as we believe that the APEX HSC Major Works Exhibition 2023 is an event to be shared and celebrated with loved ones.
We look forward to sharing an evening of inspiration, creativity, and community with you.
Go Back